Our polyethylene net sleeves offer effective surface protection against any external influences such as scratches or dents. Due to the synthetic material, surface protection nets have a high degree of elasticity and adapt optimally to the shape of the product. The net packaging is therefore suitable for protecting a wide variety of surfaces, corners and edges.
Buy various versions of plastic net sleeves online
NETZSAVE offers you a wide range of net sleeve packaging, differing in material thickness, size and diameter. In addition, the protective net sleeves have different colours (orange, yellow, blue, red, green, black and white) which represent different expansion ranges (5 – 600 mm) and thicknesses and are also intended as a form of identification.
In order to be able to offer you a suitable packaging for every need, we have arranged different product classes.
For light to medium weight products
• Aluminium elements
• Light metal profiles
• Brackets
• Fittings
• Wooden products
For medium to heavy and sensitive products
• Solid material Stee
• Metal profiles
• Heavy brackets
• Glassware
• Ceramic
For heavy and highly sensitive products
• Drive shafts
• Piston rods
• Machine components
• Containers
• Wood
• Freshly polished / painted products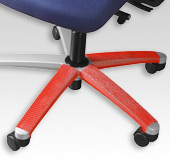 For light products and furniture components
• Furniture feet
• Furniture frames
• Components that should not receive any external scratches or dents
For heavy furniture elements or complex geometries with sensitive edges we recommend the "Eco" product line of net sleeves.
Benefits of protective net sleeves
In addition to space-saving storage, net sleeve packaging offers many other advantages over other packaging methods.
The packaging nets are formed of rhombic polyethylene mesh, making the material highly elastic and adaptable. This means that the sleeves can be easily slipped over the product being protected and, after use removed without residue.
Simple application and easy handling
To use the packaging material, cut the desired length of netting from the net sleeve roll. To make sure you don't cut it too short, you can place the protective net sleeve over the product to be protected and then cut the sleeve to length. This simple and safe procedure reduces the risk of injury to the user.
Plastic net sleeves are tearproof and resistant to greases, oils, acids and solvents. This ensures a long service life.
The surface protection nets are reusable and fully recyclable. Possible recycling options would be mechanical recycling (granulation of the plastic net sleeves), chemical recycling (chemical dissolution to recover the basic substance) and energy recovery through incineration. In addition, our protective net sleeves do not contain any heavy metals or softeners.
Suitable protective net accessories
We also offer practical accessories to make working with our protective net sleeves easier.
Our
NETZGUIDE placement aid
is easy and quick to use. It pre-stretches the packaging net, which makes it easier to slip the net sleeve over the workpiece being protected.
Protective net packaging directly from the manufacturer
You can contact us at any time and we will be happy to answer your questions about protecting surfaces with our net sleeves. We will be happy to advise you personally under +49 (0) 7121 90 97 10 or write us an email at: info@netzsave.de
Would you like to test our protective nets on your products in advance and convince yourself about our high quality materials? We would be happy to send you our
NETZSAVE sample products
.
Due to our large stock we can offer you secure and quick delivery. As standard, we dispatch our surface protection nets on rolls (metre ware), but on request we can cut them to the lengths you desire. Together, we can find a solution for your individual requirements and special requests that is optimally adapted to your products.