NETZSAVE plastic protective mats offer effective surface protection for sensitive products during transport, storage and cleaning. The protective mats serve as flexible spacers that prevent contact between and damage to workpieces. The anti-slip mats prevent products from slipping and thus prevent damage to property and personal injury. The surface protection nets can be used vertically, horizontally or undulating as an interim layer to create a buffer between the parts.
Buy protective mat interim layers in diverse versions online
We offer a wide range of net mats with different materials, strand thickness, mat size and mesh size. The application possibilities depend on the material properties. Polyethylene (PE) is suitable for use at normal temperatures whereas polypropylene (PP) can be used for cleaning with aqueous solutions up to 130°C. Polyamide (PA) is insensitive to chemical solvents and is suitable for use at temperatures up to 110°C.
In order to be able to offer you suitable protective mats for every need, we have arranged different product classes.
Protective mats - online request
Anti-slip mats for optimum grip
Surface protection nets for transport and storage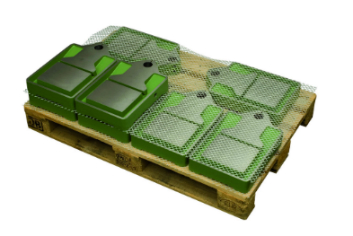 Protective net mats for parts cleaning
Special pre-cut protective mats
Anti-slip mats for securing products and freight
Anti-slip mats have a non-slip effect and ensure optimum grip even on inclined surfaces. They protect workpieces stacked on pallets, in lattice crates, in drawers and storage boxes from slipping. In addition, the high coefficient of friction can prevent accidents during transport and storage.

Anti-slip mats are suitable for use with steel, stainless steel, aluminium, brass, glass, plastic, wood and cardboard.

In combination with the "Extra Strong" interim layer net category, a stability is achieved which ensures that the interim layer does not wrinkle if the workpiece is arranged irregularly. At the same time, this interim layer combination is soft and retains its anti-slip properties
Protective mats for transport and storage applications
Scratches can quickly occur on your products during transport or storage. Use of our protective mats can prevent this. The protective nets act as a separator and secure buffer, without taking up much space. The mesh ensures good air circulation for moist components.
 
In addition to the two product categories "Strong" and "Extra" we also offer the flexible "Eco" version. Thanks to its fine-mesh and thin layer width, the parts to be packaged can be wrapped and thus offer even better protection.
Protective mats for parts cleaning applications
Our protective mats from the "Extra Thermo" product line have thermochemical properties and are useful for use in industrial washing facilities. The mats ensure that the parts being cleaned do not damage each other and contact with the wire mesh container is avoided. The special mesh structure reduces the number of contact points on the workpiece and also ensures good circulation during the drying process. Our polypropylene mats are particularly suitable for aqueous cleaning processes and the polyamide protective mats for cleaning with chemical solvents (such as Tri or Per).
Note: We create the right cuts for your project. For a request for detailed requirements, please use the custom-made form.
Application sectors for protective and anti-slip mats
Protective mats are used in machine construction and many other industries to protect the component surfaces from external influences. They ensure optimum protection during production, internal logistics and storage. The protective mats are also used for securing freight and as final packaging.
Protective mats are suitable for covering various products such as:
• Metal profiles
• Machine components
• Wooden parts
• Tools
• Aluminium elements
• Cardboard
Advantages of interim layer nets
The protective net mats can be cut to size and easily cleaned. Furthermore, they offer many other advantages over conventional interim layers, such as those made of cardboard or cellular material
• Resistant to external influences (scratches, damage) as well as shock-absorbing and pressure-distributing
• Space-saving storage of surplus mats and optimum use of the transport and storage space for workpieces
• Waterproof and resistant to many greases, oils, acids and solvents
• Environmentally friendly thanks to reusability and the possibility of recycling or residue-free incineration
• Air circulation and easier visibility of the products and their position due to mesh structure
• Prevents the formation of rust and corrosion by preventing moisture accumulation
Plastic protective mats directly from the manufacturer
You can contact us at any time and we will be happy to answer your questions about protective net mats. We will be happy to advise you personally under +49 (0) 7121 90 97 10 or write us an email at: info@netzsave.de
Would you like to test our protective mats on your products in advance and convince yourself about our high quality? We would be happy to send you our NETZSAVE sample products.
Would you like to test our protective mats on your products in advance and convince yourself about our high quality? We would be happy to send you our NETZSAVE sample products.
Would you like to test our protective mats on your products in advance and convince yourself about our high quality? We would be happy to send you our NETZSAVE sample products.
Due to our large stock we can offer you secure and quick delivery. The protective mats are available on rolls for self-cutting or already cut to size on pallets. On request we can produce suitable interim layer nets together with you to suit your individual dimensions and requirements.